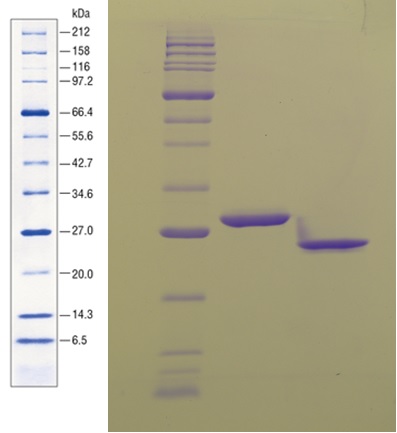 PD-L1 is a ligand for program cell death 1 (PD1). PD-L1 suppresses immune response against tumor cells upon binding to PD1 receptor. PD-L1 is expressed on T and B cells, macrophages, dendritic cells, and some nonimmune cells. Antibody binding against PD-1 or PD-L1 leads to antitumor immunity. The C-terminal of this protein is biotinylated by biotin ligase.
Name:

PD-L1 Biotin Labeled

Synonyms:

Program cell death 1 ligand 1, PDCD1 ligand 1 Biotin Labeled

Catalogue Number:

PT-OP-0003

Application:

FOR LABORATORY RESEARCH USE ONLY.

Price:

50ug ¥2200.00 100ug ¥3700.00 1000ug ¥30200.00

Number:

Concentration:

0.5mg/ml

Store:

Avoid repeated freeze-thaw cycles. 12 months at -2
Quality control assay: Correct disulfide bonds in PD-L1 were verified by Mass Spectrometry analyses. PD-L1 biotinylation is confirmed by streptavidin binding assay.
Accession #: Q9NZQ7
References:
Hamanishi, Junzo, et al. "Programmed cell death 1 ligand 1 and tumor-infiltrating CD8+ T lymphocytes are prognostic factors of human ovarian cancer." Proceedings of the National Academy of Sciences 104.9 (2007): 3360-3365.

Lin, David Yin-wei, et al. "The PD-1/PD-L1 complex resembles the antigen-binding Fv domains of antibodies and T cell receptors." Proceedings of the National Academy of Sciences 105.8 (2008): 3011-3016.
| | |
| --- | --- |
| Cat No.: | PT-OP-0003 |
| Product Name: | PD-L1 Biotin Labeled |
| Type: | Protein |
| Property: | |
| Origin: | |
| Source: | E.coli |
| Application: | FOR LABORATORY RESEARCH USE ONLY. |
| Formulation: | 10 mM Bicine buffer at pH8.3, 50% glycerol. |
| Purity: | >95% by SDS-PAGE gel |
| Storage: | Avoid repeated freeze-thaw cycles. 12 months at -20 C to -80 C. 1 month at 2 C to 8 C. |
| Limitation: | |
| Note: | |